Me: Yeshi, you there?
Yeshi: As always.
Me: I almost woke you up last night since I couldn't sleep. The only reason I didn't was because I was too lazy to turn on the computer. Handwriting "channels" no longer does it for me unless I absolutely have to and just talking to you or God/Source inside of my head just doesn't cut it either. So, here I am in the morning instead. Not even really sure what I am calling on you for…
Yeshi: What were you wanting/calling for last night?
Me: I don't know. Was just awake too late and lonely I guess. Figured you were awake too. Kind of felt like I wish you were here; was in a slumber party "don't wanna be alone while so wide awake" kind of a place.
Yeshi: You know I would have obliged. I love a good slumber party.
Me: I figured you did. Even saw us having a pillow fight. Guess I was looking for some relief; some fun. Just looking for a friend who was awake too.
Yeshi: And I was.
Me: Well…
Yeshi: Do you think you can dig deeply to figure out why it is, the morning after you have still come to me?
Me: I can try…
*we both wait a bit…I take a deep breath…close eyes…*
Me: Well not much comes to mind right now actually-just the fact that I am really sleepy and tired from being up until about 2:30 a.m. And I guess I should just close my eyes and sleep some more. I am usually up by now. Here is something maybe you can help me with. I am afraid to be tired; to sleep.
Yeshi: I know.
*can't keep any secrets from this guy*
Me: Yeah. There is this feeling of having to always be aware; on watch.
Yeshi: You realize that is a self-imposed expectation right?
Me: Of course.
Yeshi: Where do you think it comes from?
Me: Couldn't you tell me? Like I said, I am tired and sleepy.
Yeshi: I could but what would you gain? What would you learn? And would you, in the end believe it was your Truth?
Me: Okay… *yawn*
Me: Hmmm…I guess it still comes from childhood. We had to always be "on watch." In our house bad things happened as we slept. I can't believe, with all of the work I've done I still have that hang up about sleep and letting go. How long does it take to heal things? Or maybe the question is do we EVER heal things. I've been through so much inner child therapy, books, etc. and yet here I am afraid to sleep/relax/let go.
Yeshi: Good question… It takes as long as it takes.
Me: Great. Maybe by the time I'm 92 I'll be a good napper.
Yeshi: Not necessarily. There are ways to turn such things around. Or a better way to say it is there are ways to look at things you believe not healed in a very different way.
Me: For example…
Yeshi: You "think" you still cannot nap, rest or relax due to "fear" of not being on alert. Something bad may happen if you "get off of the world" for a bit. Maybe, at this stage in your life the reality is you know there is so much Joy, Love and Bliss to experience with each new sunrise you do not want to miss one minute of it. Maybe you now know that each new day brings with in many new Gifts and you so don't want to miss a single one. What if the sun shines so brightly through that window of yours and the crystal you have hanging brings the most brilliant and beautiful rainbow across your wall. Yes, if you are napping you will miss it. What if while napping your phone rings and it is someone you have been wanting to talk to and now you are too tired to get up and grab the phone let alone talk. What if you sleep for what you would believe to be too long and the day is now half gone. Could those worries not qualify as reasons you find it very hard to "turn off" at what you would consider unusual times during the day?
Me: They sure would. And once again, I think you are absolutely right. My life/home has not been a dangerous place since childhood. My life/home is filled with all that I have planted and created and it is beautiful; peaceful. There really is too much to enjoy and not enough time in a day.
Yeshi: There is always enough time as time does not even exist. Now is all that exists and if you are tired and/or sleepy now, that is the Gift of the moment. Do not pass it up. "Unwrap" and enjoy it. Put it on and wear it like the cuddly pajamas your grandmother used to make from scratch on her sewing machine for you kids every Christmas.
Me: Oh man those were great-lookimg; just like store bought. She was so amazing and talented.
Yeshi: More than that, she put so much love into each and every pair. That is what you felt and why you all got so excited every Christmas. It was not the flannel or the "Who's on yours" cartoon characters that you so looked forward to. It was the embrace of her Love that you were wrapped in each and every time you put them on.
*sigh…heart swells remembering Grandma and those great pajamas…*
Me: Okay. In my mind's eye, I see me in a pair of those jammies. I feel Grandma's Love. I feel the safety in going back to sleep to catch up on lost hours last night. But most of all I really do feel free to do so now. It is still morning; still very early. Many hours in the day left for all of the Gifts this new one holds. You are right. For now, the Gift is my body's ability to tell me, "I am tired. I need more sleep. Join me?"
Yeshi: Exactly.
Me: Love you.
Yeshi: And I you.
Me: Still can't help but think how fun a pillow fight would have been with you last night.
Yeshi: I would have won.
Me: Ha. Don't be so sure. You may have "supposedly" walked on water, but pillow fights are "female" territory.
*We both laugh*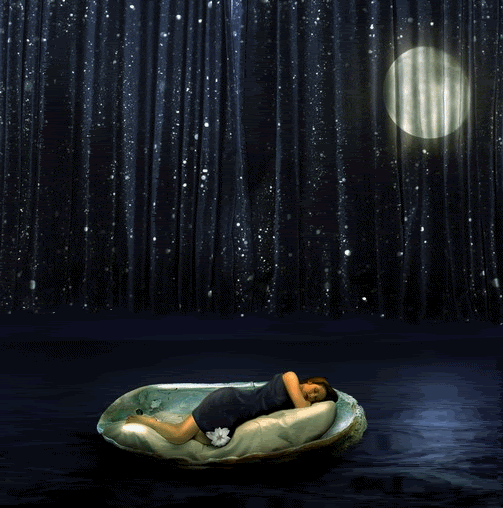 www.BeaUterinecAnswer.com
www.LoveSpeakes.com