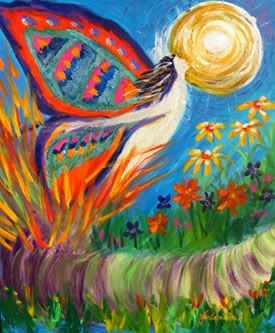 I realise that it is time to say goodbye to a lot in my life. Letting go of the old and in with the new. The energy of completion. The energy of transformation. I realise that it can be a challenge to take that risk, to let go of old habits and outdated beliefs, to take a leap. But the time is now. I am creating my new reality, letting go of fear. Shedding/letting go of outdated beliefs, thoughts, patterns/masks as I move forward. Letting go of all that which doesn't serve me! It is time now, to shed the tears of all that has gone before, to move fully into a brighter future, to let go and be determined to blaze through the trail with the radiant fullness of my divine IAM light. Shining through every element, every particle, every molecule, every corner, every stone, every inch of the earth, from here to beyond. You have to be brave. Be brave dear one. Call upon your braveness. The time is now.
Tonight, watching the final episodes of the TV series of Ugly Betty that I love, where (creating her new reality) she says goodbye to the life that she has built up over 4 years (at Mode Magazine) to move to London from New York for a job offer of her dreams. And seeing her blossom into the beautiful, confident lady that she has over the years, willing to take risks, and really follow her heart and pursue her passions, is so inspiring. Watching tonight, I realised that even though it's hard to say to say goodbye - Sometimes it is just time to move on. Saying goodbye to old friends, family members, loved ones, a life you have built up over the years; that has ultimately helped you to grow, but you realise is no longer where or who you want to be any more! Can be a challenge. But then comes that energy of completion and in goodbye you can say hello to new. Ushering in newness of bigger and better things. Now is that time. Follow your heart. Follow your dreams. Follow your passions, for they are leading you in the right direction.
Be grateful for that which has come into your space, that which has taught you and enable you to grow. Be thankful, be grateful, smile.
I acknowledge that it has be hard over the times, but it is time to move forward, there is no more time to hide. It is time to come out. We are here to let you know that it is safe. It is safe for you to rise, and it always will be. You deserve all the goodness of the divine. Shine. Allow your self to shine. It is truly okay. We know your heart, and we know that which you truly desire, and it is yours, be unafraid, you deserve it. You are a beautiful iridescent child of the divine, and we honour your bravery. It is time to come home.
Love Tania