Pick of The Week


P-P-P-Popping Off (January 28, 2011)

Hi-res TIF image (1.8M)
Quicktime Movie: Large ( 14M), Small (1.7M)
MPEG Large (7.0M), Small (4.2M)


Like a drum roll before the big moment, the Sun blasted out numerous smaller blasts of particles to the right before it unleashed a large, bright coronal mass ejection that was associated with an M-1 (medium-sized flare) during the period Jan. 26-28, 2011. SOHO's C2 coronagraph caught all the action. A smaller blast caused by an erupting filament flew out from the Sun's opposite edge almost simultaneously with that blast. In the still, we superimposed a Solar Dynamics Observatory (SDO) image of the Sun in extreme UV light taken at about the same as the coronagraph image.

Coronal Holes: 04 Feb 11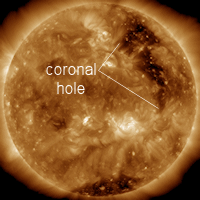 A solar wind stream flowing from the indicated coronal hole should reach Earth on Feb. 4th. Credit: SDO/AIA.
CLOSE APPROACHING ASTEROID: A small (4-5 meter) asteroid discovered earlier today by R. A. Kowalski of the Catalina Sky Survey will pass by Earth on Feb. 4th around 19:40UT at a distance of 11855 km. 2011 CQ1 will not hit Earth, but it will pass well inside the Clarke Belt of geosynchronous satellites. [more]
AFTER THE STORM: US skies are clearing in the aftermath of this week's monster winter storm. But "clear" is not the same as "empty." Sky watchers are seeing an unusual number of sundogs. Doug Koehler photographed these yesterday in Davenport, Iowa: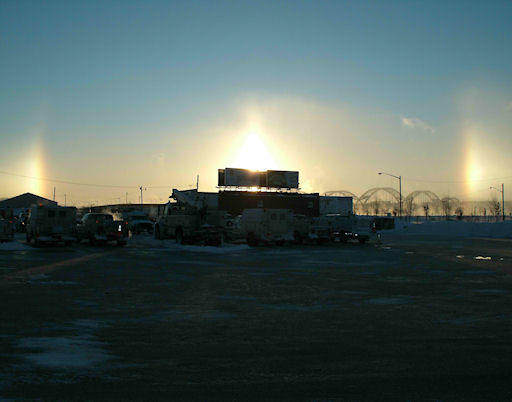 "These brilliant sundogs appeared in the early morning sub-zero fog just off the Mississippi river," says Koehler. "They lasted about 20 minutes before fading away. The camera doesn't do justice to how colorful they were."
Sundogs and their cousins, sun pillars, are caused by ice crystals in the air. And if there's one thing North Americans have a lot of, it's icy air. Indeed, the dog and pillar show is likely to continue for at least six more weeks.

All Wavelengths Feb 4, 2011 The Sun Now
http://sdo.gsfc.nasa.gov/data/AIA Wavelengths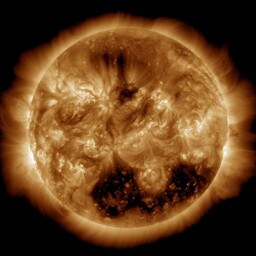 4096 2048 1024 512
4096 PFSS 2048 PFSS 1024 PFSS 512 PFSS
48 hr MPEG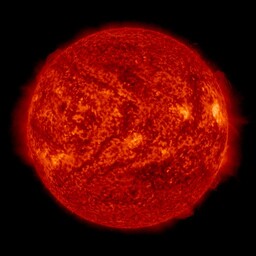 4096 2048 1024 512
4096 PFSS 2048 PFSS 1024 PFSS 512 PFSS
48 hr MPEG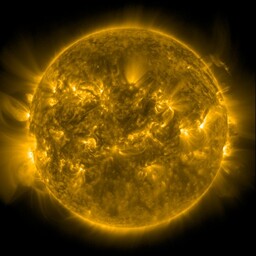 4096 2048 1024 512
4096 PFSS 2048 PFSS 1024 PFSS 512 PFSS
48 hr MPEG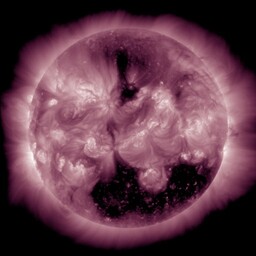 4096 2048 1024 512
4096 PFSS 2048 PFSS 1024 PFSS 512 PFSS
48 hr MPEG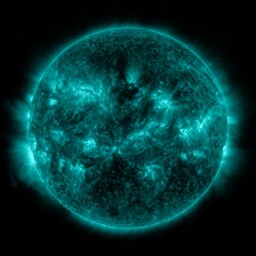 4096 2048 1024 512
4096 PFSS 2048 PFSS 1024 PFSS 512 PFSS
48 hr MPEG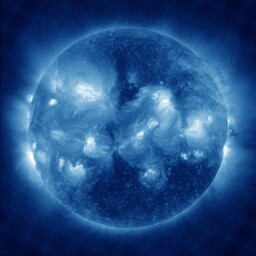 4096 2048 1024 512
4096 PFSS 2048 PFSS 1024 PFSS 512 PFSS
48 hr MPEG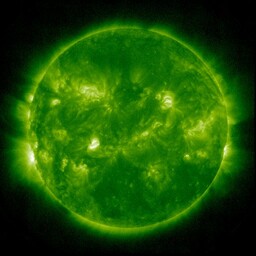 4096 2048 1024 512
4096 PFSS 2048 PFSS 1024 PFSS 512 PFSS
48 hr MPEG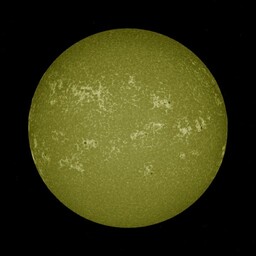 4096 2048 1024 512
4096 PFSS 2048 PFSS 1024 PFSS 512 PFSS
48 hr MPEG

4096 2048 1024 512
4096 PFSS 2048 PFSS 1024 PFSS 512 PFSS
48 hr MPEG