I offer you a super simple idea that I tried and want to share as maybe it will help somebody else. This is a time of shift and change and we are bumping up to new levels of vibration. The solar flares are a magnetic bath for us. Sometimes it brings up our miasmic patterning to be released, and that can be very emotional. We can have physical and mental symptoms too, including brain fag and lack of focus or fatigue.
Here is what you can do. Go to your crystal and stone collection. Choose one that feels right. You can look up the properties of this stone online to determine its properties. You might want to treat yourself to a trip to a metaphysical bookstore and look at the stones and also the stone books. The information on crystal healing can be overwhelming, so go with what feels good and look it up and see if it seems right. Also, there are special stones for dream, inner child healing, clearing your field, heart chakra opening. YOu name it- there is a stone for it.
I am starting to learn about stones. I chose a rhodonite stone that is pink with veins of black.
Yesterday the solar flares and my life and shifting hit big time and I felt very emotional. It was a challenging day for me. Today is much better. Emotional balance is returning and maybe I can thank the energy of the stone.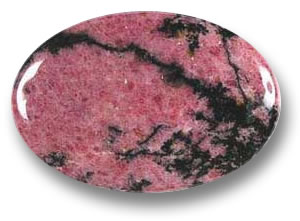 Here is a picture above, and a description: Rhodonite soothes the nervous system. This gemstone vibrates with love. Just holding this gemstone promotes relaxation and brings a sense of well-being. This is a balance gemstone and is used to clear the psychic centers. Rhodonite is a stone of compassion, an emotional balancer that clears away emotional wounds and scars from the past, and that nurtures love. It stimulates, clears and activates the heart. Rhodonite grounds energy, balances yin-yang, and aids in achieving one's highest potential. It heals emotional shock and panic. Rhodonite aids in cases of emotional self-destruction, codependency and abuse. It encourages unselfish self-love and forgiveness. Promotes remaining calm in dangerous or upsetting situations. Builds confidence and alleviates confusion.
Other Stones that are useful:


I have a strand of green and purple Fluorite. It is a delicate stone. I got it because it clears your energy field and as an empath and healer, I have picked up other people's stuff. Flourite description: Fluorite promotes spiritual and psychic wholeness and development, truth, protection, and brings peace. It protects psychically and in the physical realm. It helps one meditate and learn to go past the "chatter" that our minds tend to generate when first learning to meditate. It can help get rid of mental blocks and similar mental issues. Physically it helps general health throughout the body's main skeletal and muscular systems. All colors are also good for auric cleansing. Mixed colors bring enhanced protection in the areas enhanced by all combined types. Clear fluorite guards against psychic attack and strengthens consciousness. Blue fluorite has the quality of protecting the emotions and restoring emotional balance. Purple fluorite strengthens mystical insight, psychic awareness, and can open the third eye. Green fluorite is an excellent all purpose healing stone that promotes healing on all levels.
Green Calcite is also for empaths, healers, teachers, and counselors. It helps you clear your energy field and feels happy. It increases prosperity. Calcite description: Calcite is a peaceful stone and is considered one of the most gentle healing stones. It is also often called the "stone of the mind" and believed to provide supportive energies during times of mental changes or big transitions. Green calcite has a mild vibration that facilitates calm and relaxation, balancing the emotions and is an excellent tool for bringing tranquility to the emotional body.
Metaphysical beliefs: It is believed that the purifying energy of calcite cleans out stored negative energy from a room, the body, etc. Use calcite to clear out old energy patterns and to increase personal motivation and drive.
Chrysocolla calms, cleanses and re-energizes all of the chakras and aligns them with the divine. Tranquility within change. It is good to level out blood sugar. It clears out negative emotions. It is a pretty stone that looks a lot like turquoise but seems to have blue and green parts and is brighter.
These are a few stones that I like and I am new to crystal healing. There are many, many stones to discover. I only list a few that I was drawn to recently. I used rhodonite to make my stone healing water. One thing you can do with them is to take a stone, place it in a pitcher of water, and the send your intent to the water and the stone. Or you can hold the stone in your hands and program it with your intention from your heart. "I AM emotional balance" could be an intention, but be sure to make up your own intentions to enhance the properties of stones you use. At night, drink the water and it will be very healing to you. I drink the water in my pitcher when I wake up in the middle of the night. Be careful to use a large enough stone if you have it in the vessel you drink from though. We don't want any choking on small stones, obviously.
Enjoy this technique and play with stones, and get to know them as consciousnesses that want to speak to you and communicate with you and also heal you.