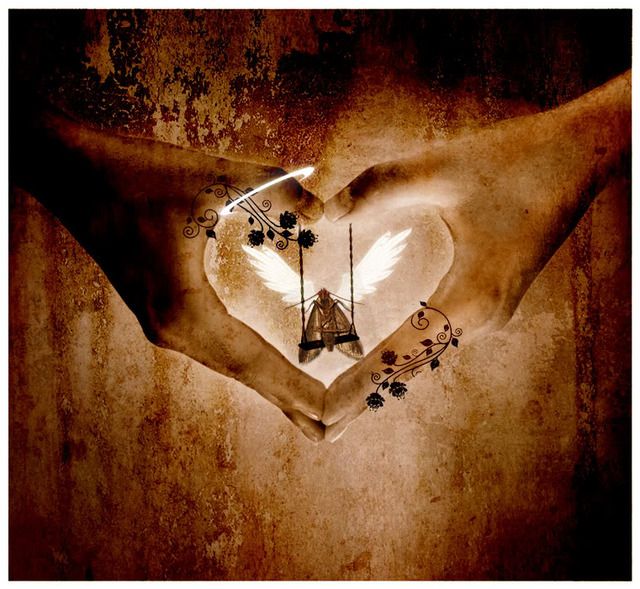 Hey there dearest Lighty friends,

Well, I think I may have sold my house today, naturally the contract is subject to finance being approved, so I'm trusting in the Universe that all will be fine – if not, I'm no worse off or better off than I was yesterday. It just wasn't meant to be – next!!!

I'm just going with the normal flow and influx of recent energies that seem to be heralding times of dramatic future change, not just for me – this change is also impacting drastically on those who I hold close, my nearest and dearest are directly included in this change as well. I feel, to a certain degree, I have had really no control over this major transitional period in my life, that the cosmic PTB are actually initiating this transformation for me. So I've just decided to work this energy to the max – because I trust and have faith that Universe knows what is best for me personally and on a collective level. It's really quite strange how sudden this important alteration in my lifestyle has come about. The dynamics have literally 'played out' in such constructive manner - it's really quite incredible when I think about it.

You see, for the last 12 months or so, I have been receiving this message from Source – first a little whisper, then it became a loud yell 'Work smarter, not harder'. This little cliché has been randomly popping into conversations and social interactions I have personally encountered during the previous year. I recall at one stage, thinking – 'I wonder what this little message means for me personally'. I knew it was definitely memo from Universe to take note, as it just kept continually cropping up indiscriminately - Work smarter. Not harder.

About four months ago, I was visiting my sister – we were having a big D & M (deep and meaningful) conversation, about the meaning of life in general, the constructs and the politics of the world and the effects our chosen lifestyles have taken on society and the repercussions financially, emotionally, spiritually and personally combined. When all of a sudden, 'Work smarter. Not harder' just by sheer providence, fell exactly into place.

My sister is a single mum of two teenagers and has been struggling to run her own business for quite some time, since she and her partner (business and personal) separated two years ago. She kind of inherited an STD from him (Sexually Transmitted Debt) and has been toiling almost 24/7 to stay afloat. Her business is operating on land situated on her home property of 1 ½ acres, so she has a rather intimidating loan to repay to the bank. I have such a tiny mortgage to repay by comparison and I personally hold a fair bit of equity in my own home.

At the same time, both our parents are ageing. Mum just recently underwent a double knee replacement and dad has been diagnosed with terminal cancer. He's been sick for quite some time and they live just too far away from both my sister and I to directly enable us to assist and contribute to their personal care, which is ever increasing as time goes by. It's been a tormenting perpetual cycle of, I worry about my sister, she worries about me, we both worry about mum and dad and mum and dad worry about us. So inevitably, as fate would have it, during the course of our discussion, the 'Work smarter. Not harder' catch-cry came into manifestation.

So the Katzinsack clan, decided to have a 'Pow Wow' – we called a family 'parley' and have come up with a long term solution to our individual and collective problems, financial and otherwise. We all agreed resoundingly, that we have to break FREE from the 'Bankster Gangsters' basically to achieve some quality of life and independence. So this is how it's going to go down – listen up.

I'm selling my house, the profit I make will repay my meager mortgage in full and I whatever moneys are left over will be invested into mum and dad's property, to get it fixed up and ready to sell. They own their own home, so there is a lot of equity in their property – I genuinely figure I will recoup my investment on the sale of their property. We are then going to form a 'family trust' and invest all our collateral into my sister's property and eliminate her bank mortgage as well. So two bank mortgages gone – nobody in my family will owe anything to the banks.

At the same time, both mum, dad and myself are going to build our own fully self contained condo's on my sisters property, so we will be completely independent of each other and not living in each other's faces everyday – it's critical that everybody has their own personal space. I can really see this working, we have already received council approval, and what we invest in our family trust, will ultimately be adding to the value of the original property. Mum and dad, will have my sister and I handy, they will receive the care that they require in their twilight years. No nursing homes or retirement villages for them. They will be looked after until the day they leave this earth – they will die at home, with their family around them. At the same time, my sister and I will be companions for each other as well. So I guess it's a win/win situation for all involved. It's like we are establishing at little family dynasty.

Of course, there are still a lot of tin tacks that need sorting out but we are engaging legal representatives to act on our behalf, to ensure that everybody will have an equal footing in relation to the trust.

I guess, this is what families are really for, to help us and come together and work as a collective to enhance and ensure the overall benefit and welfare of all and everything. Everybody will be taking care of each other and be there for one another, each contributing to a common purpose and goal. A team and there is no 'I' in the word team lol.

I'm fortunate, that I have a loving family. Mind you, we are definitely not perfect, we have altercations and differences of opinion like every other family, but at the end of the day, we are family, we stick together through thick n thin and sick n sin. After all, we may not be able to live with anybody else, but we do know how to live with each other. This is how it is going to work for us and I'm perpetually working my 3D life into a 5D reality. A better future for all and everyone. LOVE IS - what I got and it's been right under my very nose lol.
Much love and happiness to you all
Ish )O(