THE THREE GRACES



The most basic form of the Wiccan Rede (or creed) is "an' it harm none, do as ye will." The "an'" is from the Old English, short for "and." Its meaning is that, so long as there is no harmful intent or action toward another, one has the right to do or think as one pleases.
The Rede may sound too simplistic to some, but it is not. It is highly idealistic, and can be compared to the most basic of Christian teachings, "Love thy neighbor as thyself," or to the even more widely quoted Golden Rule, "Do onto others as you would have them do onto you." Very similarly worded concepts exist within every known religion! If these precepts were sincerely followed by everyone, one would not need to write a single law, nor would any crimes ever be committed. Everyone would be naturally considerate of everyone else, and would act according to a highly developed conscience.
The complication and double-bind that can occur is in the instance where no matter what one does, it is impossible to avoid the perception of harm, slight or lack of love from someone else who is involved. Here, one is obligated to consider, meditate or pray, if necessary, and then choose the path of highest conscience.
The Wiccan Rede has various elaborated wordings that extend its meaning further. The most widely accepted concept is the Rule of Three, the essential meaning of which is that whatever one puts out into the Universe comes back threefold: physically, mentally and spiritually. If one does harm, it can boomerang back with a vengeance. If one does good, that comes back magnified, as well. This is especially applicable within the practice of magick.
Many Wiccans have discovered that as they become increasingly adept at focusing magickal will, "karma" or "what goes around, comes around" can be instant! Positive magick is not universally accepted, but it is a very widespread teaching of modern Wicca. Some believe that it is acceptable to use magick to suppress or bind something or someone considered to be evil, but fully positive magick rejects all magickal intent or action that seeks to bind, direct harm toward or even manipulate the free will of another individual. One only seeks to change oneself from within, in the belief "as within, so without."
When one changes oneself for the better, one's environment responds in kind. Perhaps the most popularly used version of the Wiccan Rede (author unknown) expands the basic Rede to include the Threefold Law:
Bide ye the Wiccan Rede ye must,
In perfect love and perfect Trust.
Eight words the Wiccan Rede fulfill
An' it harm none, do as ye will
Lest in self defense it be,
Ever mind the Rule of Three
Follow ye this with mind and heart,
Merry ye meet, and merry ye part.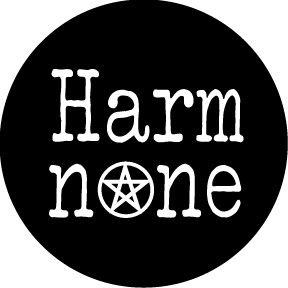 Much love and happiness to you all - Blessed Be
Ish )O(