full moon number 46 brings us to bolivia near lake titicaca,to a place full of mystery called Tiahuanaco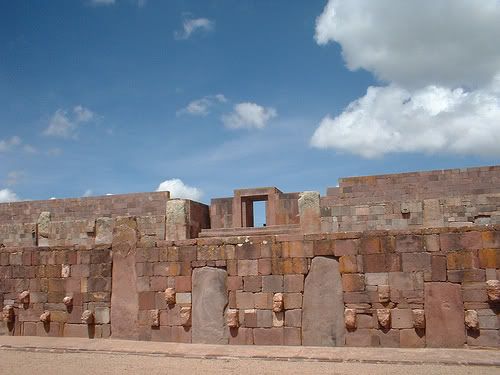 exact full moon happens on july 3rd 2012 at 2:52pm local bolivian time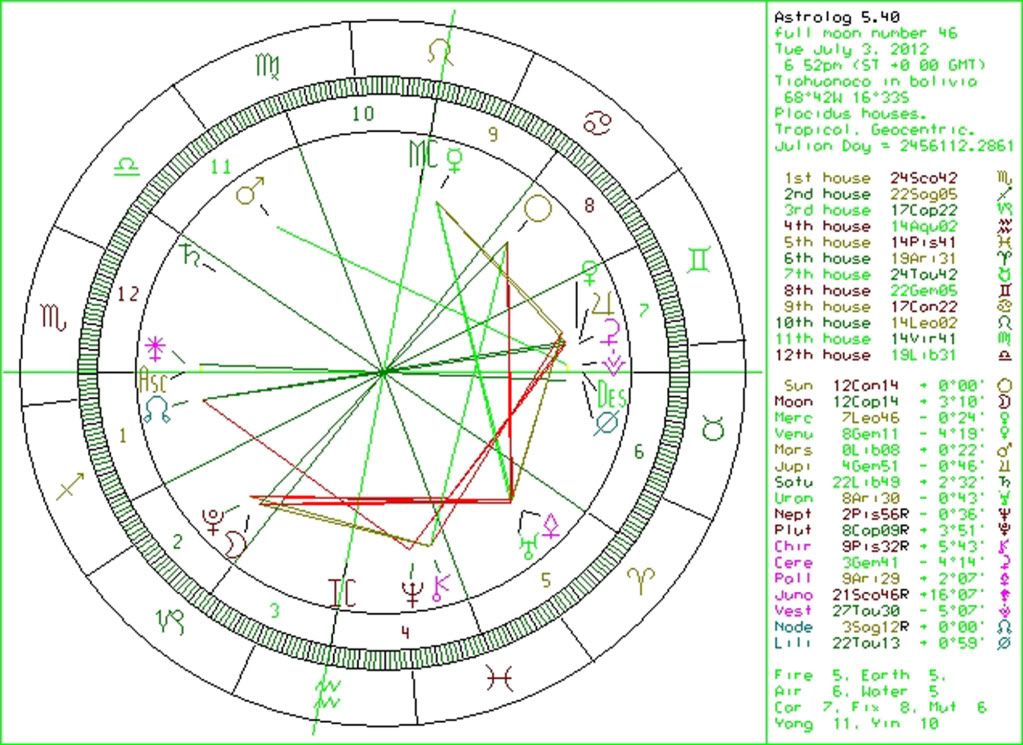 the minute moon reaches fullness we've got sun in sensitive cancer conjunct sirius the dogstar which is a very bright fixed star in the constellation of canis major (greater dog).sun and sirius standing together can be described as a receptive mind filled with glory against moon and backward pluto in capricorn,emotions that touch upon the hidden shadow deeply engraved in the collective psyche.
all in all,the cancerian 8th house sun-sirius represent conscious detachment from fame and fortune while capricornian 2nd house moon-pluto hold onto uprightness about the current shift we're in right now.besides being in the feel contra making sense out of feel,sun and moon are pulled into demands for new development as well which is the impact of the t-square among sun-sirius-moon-pluto apex uranus-pallas.awareness (male element ~~sun) and feeling (female element~~moon) get imprinted with the energetic charge of the outer planetary pluto-uranus square indicating wordly changes on the rise directly affect the individual in unexpected manners and because sun and moon are embedded into the pluto-uranus square,personal ways of thinking and feeling automatically relate to the new work in progress building in the external reality.
the only way out of this t-square intensity is chiron in pisces,the empathic healer,bringing about equilibrium by picking up on emotions that are all-encompassing.so if you like it the easy way,please flow with chiron :)
dreamteam uranus-pallas is the kick-ass kind of spontaneous energy causing new creation to come forth and as creativity springs from ingenious female pallas attached to ingenious male uranus,both are perfectly stimulated by mercury in leo,the creative communicator (mercury trines pallas-uranus).
juno is at 21 scorpio to the east,she is the asteroid goddess commited to in-depth relationship and to the west there is lilith,the rebellious female favoring good quality of life.the 4 directional flow of energy imitates the movement of the sun therefor new impulses coming in from the east transform and get released at west,in this case it is deep truth found through close relationship turning into the expression that abundance should be for everyone.
the other t-square between north node-neptune-jupiter conjunct south node tells that there is no escape to inner neptunian dreams suddenly growing bigger with jupiter putting extra love energy to every tiny detail.venus in gemini is many-sided love,south node in gemini is various memories of the past and jupiter in gemini is the enlargement of detailed examination,these three receive a pleasant energyboost from NEW mars at 0 libra!what a relief after a tiring half year with mars in virgo!!!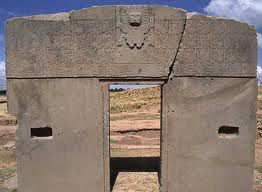 todays kin is 2 muluc meaning the true essence of being is dualistic in nature but one could also say that according to the tzolkin calendar,this day is destined to reveal our own true identity while we are dealing with polarity.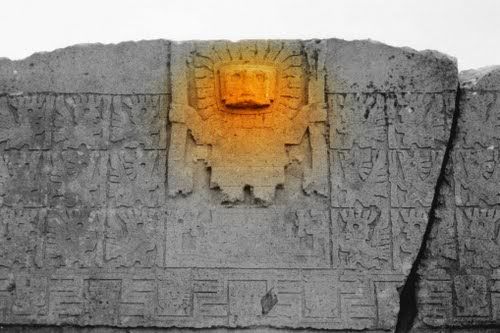 meditation starts at 2:15pm and lasts till 3:30pm local bolivian time/6:15pm GMT~~7:30pm GMT
complete information:
itzamayamessage.blogspot.nl/2011/05/grand-maya-itza-council-invite-for-full.html
all pictures are taken from google