Dear friends.
As we release our attachments to the third dimensional thinking and way of living and perceiving all life,
what does this do to the space we have now created? It makes way for us, as spiritual beings, to put
this new energy of awareness and awakening to a higher life into our everyday thoughts, actions and speech.
The third dimensional world has been our way of life since birth, but many souls before us have become
enlightened to their spirituality and divinity within. Once that energy that we all carry has been tapped into,
there is no turning back in our minds, life changes for good!
It does not matter what any other soul says or thinks, this spiritual awakening is a personal journey.
Who else could possibly know what is in another's consciousness, but the person themselves.
No amount of convincing that it doesn't exist will deter the spiritually awakened, it is our reason for
incarnating in the first place. We are not born with this idea, it comes to us when we are ready to accept
the Truth of what many others before us have been teaching for thousands of years. We are all a spark
of Divine God/Source, and in order to realize this we incarnate into a physical world (which is a lower vibrating
energy of spirit) to go through many experiences that will hopefully bring that spirituality within to our
consciousness and show us just what powerful beings we really are.
Everybody is at different levels of awakening, or not! Every soul has the choice to ascend in this lifetime or not.
It is definitely a personal journey, and having places where we can share our awakenings with others experiencing
the transitions, is definitely comforting , giving much support which we all need. Patience is certainly a virtue in
this rapidly changing world, but, it is our inner world that is unfolding before our very eyes that is the most rewarding
experience to many, I am sure! The information and knowledge that we carry within our consciousness is being
made aware to us through the ascension energy downloads. Each download has been different and certainly not
without its WOW factors. By becoming aware of a higher life that is slowly being built by the breakdown of society's
ill-structured foundations based on greed and a 'must have' attitude, I believe it will take some time for visual signs
to appear around the world..........but, having said that, it is within our own towns and communities that we see the
changes begin. And, that is becoming possible by the altruistic thinking of people who ARE awakening to creating
a better world for everyone. Awareness of hidden agendas in many facets of society are being exposed everyday.
We WILL get there, there is no doubt about it! The main thing is not to despair or expect change to happen miraculously
as it just doesn't happen like that. The inner changes impact on the outer changes in our world.............
It all starts with the individual and the inner changes, how else will humanity rise above the dysfunctional ways it is
living in now? There is NO looking back..........not for even a second!
God has always been on Earth ~ through us and everything we see, touch and feel.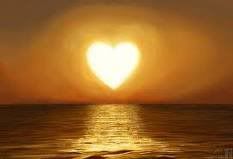 BE Blessed ~ Feel Blessed
Tara ~