Written by Annabelle Arnold
"Its time to re-connect to others, as well as our spiritual Selves,
and for this the Angelic realm offers so much support."
I work as a Healer and Past Life Regression Therapist in the beautiful town of Denmark, located on the south coast of Western Australia. I see local clients, visitors from Perth, interstate and overseas and feel privileged doing this fascinating and often liberating work. However, too often I see people carrying heavy burdens which they are trying to overcome, not just in session but at common meeting places like the supermarket. I see many fallen brows and 'lost' expressions on people's faces. Right now on the planet many of us are working through much of our past on one level or another. The Human Race and our planet are at a crisis point whether we wish to acknowledge it or not. We read continually about how we are unable to sustain our current way of living with our rapid depletion of nonrenewable resources and that it is time to change our ways. And it is becoming urgent.
Meanwhile we're also being told to find joy and lightness in our lives, do what makes our hearts sing and have a 'gratitude attitude'. Some of us manage to create this in our busy lives of endless 'doing' but it is often short lived as many of us unconsciously run in fear from our 'perceived' self deficiencies, (which we've been programmed to believe we have), all the while being extremely hard on ourselves because we seemingly never meet the expectations of others. We feel somehow deeply flawed and powerless to find answers to our problems. This 'negative inner dialogue' runs in the background, following us around like a loyal dog wagging its tail and beckoning us to interact with it. We are also, many of us, trained from birth to 'externally refer' for answers and sense of self, instead of 'looking within' where there is much timeless wisdom - if one can but slow down, and be still. We tend to look outside ourselves or to our analytical minds most of the time.
Our Past Blocking Change
There is also another huge block that prevents inner reflection; the weight of past life issues and blood spilled throughout our ancestral histories. It is one explanation why people can't get to the bottom of certain issues in this life, because they've unknowingly brought forward ailments and unresolved problems from other lives, their family tree systems or even events relating to other planets and star systems. It is common for souls who have come from places where telepathy is the main form of communication, to feel confused by the interaction on this planet, because our words don't match our inner truth. More advanced civilizations than ours have no need for deceit or lies.
Some of the 'sensitive ones' are channeling the 'collective pain body' for others and the planet without realizing it. Mental illness is on the increase because the system doesn't recognize psychic sensitivity, making many people open to low vibration disturbance, which can be cleared. Alternatives are emerging faster than anyone predicted but for those who don't have these resources available, it can become very heavy stuff indeed. It's no wonder that so many people are getting caught up in these lower vibrating emotions because we are going through a cleansing with Mother Earth. The whole planet is involved in a wide scale vibrational shift now.
Unity Consciousness
We are now seriously on our way in this process of ascension and shift in Consciousness, as we enter the pre-wave of the 9th and last wave in the Mayan Calendar, (known as the wave of Unity Consciousness July 17th & 18th). Our bodies are also becoming lighter - less dense. We're literally changing from carbon based bodies to crystalline bodies right down to our DNA, and it's even affecting the way we eat. I've noticed a distinct change in my system, I'm less hungry and my body craves raw and fresh food. But some are becoming less grounded and are going the other way. So they are unconsciously adding weight to their bodies, sometimes with toxic foods and substances, if there is guilt and shame in the mix, trying to push down the 'wagging dog' mentioned earlier. Attempting to fill the large hole caused by thoughts of separation, loneliness , abuse or abandonment with unhealthy foods is common but doesn't remedy the situation.
It is time to re-connect to others, as well as our spiritual Selves, and the Angelic realm offers so much support. All we need to do is call them. As time speeds up, it is important to imagine ourselves 'in' our bodies, grounded to the earth with energy going deep down into the heart chakra of Gaia and coming back to us lovingly. Walking in nature, swimming, remembering to breathe slowly and deeply, all helps us stay in our calm centre.
Physical Effects of Holding onto the Past
The 'heavy' stuff in our bodies is no longer comfortable and this includes what is in our psyches and our hearts. It affects our spirit too. Everything is moving up. So the oboes, the bases, the lower octaves will be vibrating closer to clarinets and cellos; the mid range. The lower frequencies are not being supported anymore. That means things like fear, guilt and shame, anger and rage, sadness and grief are coming up too. The less than love emotions also help us punish ourselves by way of putting heavy metals and toxic substances into our bodies, the same way we do with our Earth. This is a metaphor to catch our attention to the way we are living. Its all about vibration and frequency - anger for example, will find ways to bring toxins into the liver and bowel, blocking the energy in the throat also. So many people have trouble with this emotion. In Japan, I am told, there are rooms rented out, decorated nicely but inexpensively, where people are given a baseball bat, and are monitored so they don't cause harm to themselves. After they have vented their aggression, it is all cleaned up ready for the next customer. I hope they use a smudge stick!
Perhaps this is not the answer. Regular therapy, clearing or regression work may be preferable. Negative emotions can be focused and released but should not be fed. Whilst addressing pain it is important to contradict victim patterns. It takes courage to reach out but in order to change we need support.
"It is time we move on from the past and let go of what no longer serves us."
By replacing negative, doubtful thinking with loving thoughts and feelings towards myself, to humanity and to Mother Earth, I immediately notice a shift happens in my body. Even if it feels awkward, I practice sending and receiving love and forgiveness regularly.
Anyone who has experienced 'the dark night of the soul', which is probably most of us, knows how difficult it can be to love ourselves. It's our greatest lesson. Having loving thoughts towards ourselves contradicts so much we have been programmed to believe in so many lifetimes! We all carry emotions of guilt and shame. This is the worst one of all. I don't care who you are, guilt and shame hide in repetitive, destructive tendencies and addictions. With it we hurt ourselves, we hurt each other, we hurt the planet - it's all the same. We think it's too painful to look at but we must address these emotions if we are to change its vicious cycle.
Power of Love and Compassion
Choosing to respond to each other with love and compassion, forgiveness and humility, patience and tolerance is very empowering in the face of all this heaviness and is high in vibration. Love flows everywhere and shows itself in our outward actions. Only with persistence, faith and determination to be kind and generous and not be influenced to feed hatred and fear, will we succeed in being pro-active. It is sink or swim time for this planet as a whole (sorry Atlanteans). Do what you can to live more consciously. Even reverting to power-saving light bulbs is an act of love to Mother Earth. Get a rain tank. Talk to your friends and neighbours and find out what they do. Start gardening. Google your inquiries for solutions. Doing nothing only supports those in power who do not want us to move forward and would rather allow this Earth to die than to lose money. How much shame must they be carrying? The wool has been pulled over our eyes for too long.
Each time you send love, forgiveness and compassion to yourself, it leads to love, forgiveness and compassion to those around you and further afield. We are all part of the One. Unity Consciousness means negative ego and power games will not be supported anymore, but it will intensify before it diminishes. Vigilance in staying centred in love and 'unity consciousness' is even more important over the next few years, and will help prevent or lessen global disasters that have been predicted. Lets unite and be equal. We are all one. Choosing to feel as much love as we can, compassion and humility will help cleanse our planet in more ways than any of us can possibly know.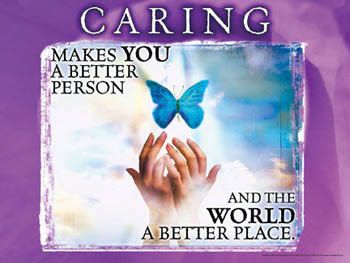 Annabelle Arnold is a Holistic Practitioner in Denmark, Western Australia
Transformative Therapies - Making Way For the New Paradigm
http://www.consciouslivingacademy.com/magazine/index.php?
option=com_content&task=view&id=514&Itemid=547