for meditation number 47 we meet at tikal in guatemala which is THE ceremonial center of the mayan tribes in guatemala.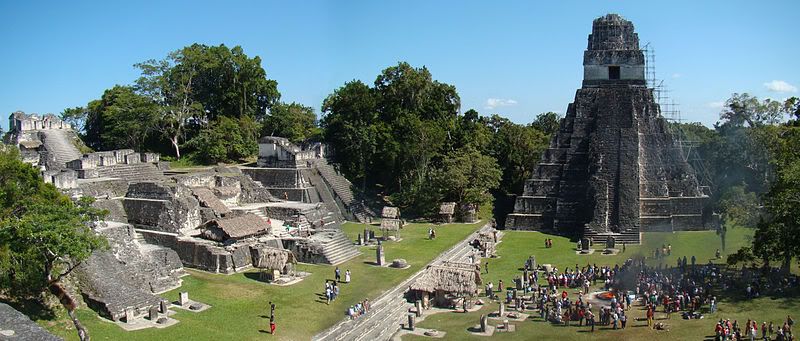 picture taken from Wikipedia
leo full moon is precise on wednesday evening,august 1st 2012 at 9:28pm local time/august 2nd at 3:28am GMT.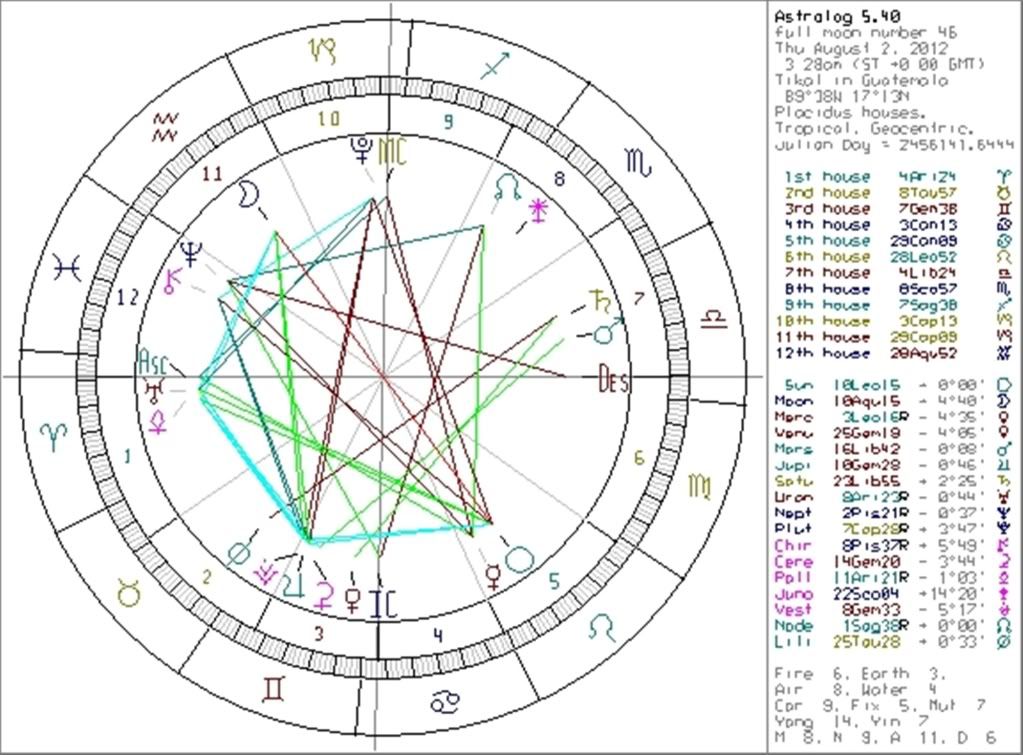 sun at 10 leo against moon at 10 aquarius comes down to a creative awareness of our own versus spontaneous right-on intuition to which all of the collective can relate.
significantly it is sacred geometry again that is with us,specifically the flower of life symbol cut in half encompassing moon,uranus-pallas,jupiter-vesta and the sun.
hence ideal connection is given between mind (sun) and sensitivity (moon) with the help of unexpected uranian change in the company of ingenious warriorlike female pallas and jupiterian extensive learning to keep us busy ala vesta.
the four directions:
sun trines direction east that goes together with backward uranus and backward pallas in aries telling the NEW and exciting is on the rise that one welcomes warmheartedly.the grounding south aligns with retrograde pluto that is amped up as it is the apex of a YOD configuration build by sun and jupiter-vesta.so it is the extensive learning combined with hard work and the strong honorable sunlight that bring about more in-depth revelation to be found internally which is providing extra grounding.retro lunar north node in sagittarius says that humans alltogether have common ground when it comes to what we believe in as far as our collective future is concerned and this placement is sextile direction west.west is also sextile selfreflective communication represented by retro mercury,both sextiles bump into each other at west causing a well-balanced release of the eastern triggers for change.wise north at early cancer trines neptunian imagination one dives into inwardly sothat our own limitless world of dreams reaches out towards nordic guidance in a lovely way.
further more it is astonishing how many planets interconnect by drawing trines indicating good fortune!for instance freeloving aquarian moon is perfectly attuned to alot of information about everything that we havent figured out quite yet due to jupiter-vesta trine moon.
another trine is the connector among retro mercury at early leo and retro north node at early sagittarius which is equal to personal contemplation and thinking big leading to pleasant thoughts about what the future may hold.then there is ceres,the asteroid goddess at the heart of gemini corresponding to natural cycles of time,she positively stimulates the decent male at 16 libra.last but not least venus trines saturn giving off love and appreciation to new definition of fairness and equality.
the energy of the sun is amplified through the influence of another YOD configuration coming from retro chiron in pisces and retro pluto in capricorn.this means each to their own realizes that everyone is in charge of their own truth forming the truth that the collective holds on mundane issues and our inner wounded healer is compassionate beyond measure.both shoot out to boost the sunlight and therefor also the full moonlight which is nothing more but a reflection of sunlight.
because many planets are in retrograde mode we are to deal with our own while we feel very blissed out as well and i am sure that surprises make us open up to all that we have never ever considered before.
kin of the day 5 etznab means selfreflection that is the central part in the process of becoming a shaman.
full moon meditation is ON from 8:45pm till 10pm local tikal time august 1st/2:45am~~4am GMT august 2nd
complete information about the full moon series:
itzamayamessage.blogspot.nl/2011/05/grand-maya-itza-council-invite-for-full.html