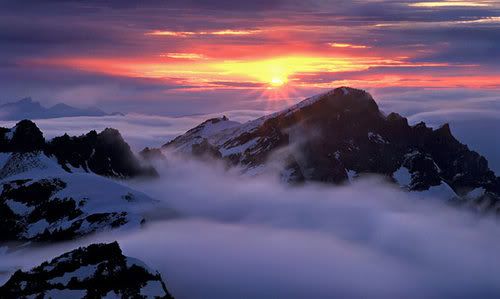 God is like the wind -- sometimes awe-inspiring, sometimes soothingly gentle. In snow-swept lands,
gusts blow icy cold and terrifyingly hard. On tropical shores, the breeze is pleasantly warm and
reassuringly gentle. The wind has no form, but we know it according to its place and time.
The warmth or coldness of the wind is dependent on the quality of its moving air. Its coloration is
dependent on dust, moisture, and sunlight. Similarly, God is without form, but we know him/her
through his creation. We know of his love and wisdom by seeing his beauty around us.
As our divine vision grows, we begin to see God in all things. He/She is the essence of Self and
everything that exists. The transformation by which we perceive this vision is a function of atma.
(Atma - our spiritual essence within) Through spiritual discipline, we start to disperse the clouds
of ignorance. We find unity hidden in diversity. God manifests only by appearance in the world
of form. God needs form to manifest and express, just as the wind is inseparable from the air.
God is ultimately formless, but we perceive him first through form. Only through shape, color, and
size can his sweetness initially be known.
" This is a silver tumbler. We do not see in this the silver being different from the tumbler.
Someone has given me the silver and I have had a tumbler made out of the silver.
If the individual asks for his silver back, it is not possible for me to say that he could take
the silver and let me retain the tumbler. It is not possible to separate the silver from the
tumbler. In this manner, as the silver and the tumbler are inextricably connected with
each other, God with form and God without form are connected with each other. "
~ Taken from Summer Showers p.164
Pathways to God ~
Jonathan Roof ~
Teachings of Sri Sathya Sai Baba