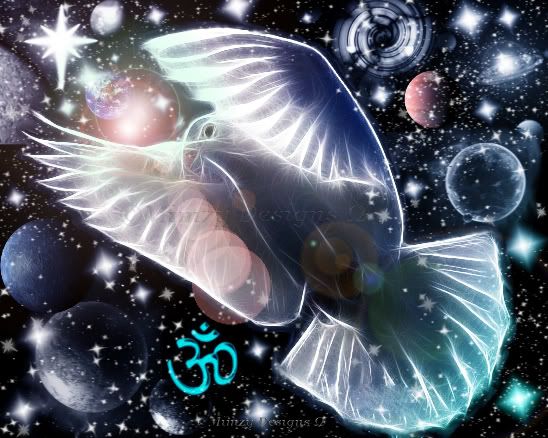 An excerpt taken from: Peace -- New Method, New Light
by Olivier Manitara.
"Peace exists inside every person, and it is up to us to make it flow freely,
so that it can illuminate life with its presence, and give us the strength
necessary to triumph over all obstacles."
The Universal Key Of Peace: The Great Method
If you want to approach a deeper understanding of this teaching on peace, you can freely practice the following meditative exercises and methods which emanate from the initiatic current of the Cosmic Tradition and from St. John's humanity of light.
Develop the good habit of feeling the ground under your feet, of feeling that the earth is carrying you. Even when you lie down in your bed to sleep, you can be aware that the earth is supporting you and that you give your body over to it with confidence.
Develop the good habit of feeling the infinite sky above you. You must acquire this perception of the immensity and the eternity of the highest heights.
Raise your eyes up towards the blue of the sky and consciously tie yourself to the divine spirit, to the Most High, to the Supreme One -- with a feeling of elevation, of ennoblement, and of unlimited perfection.
Just as you were able to realize that the earth is carrying you and supporting you, you must also succeed in feeling that the infinite immensity of the sky above you is elevating you, is attracting you upwards, is straightening you up, and is awakening you inside your true eternal being.
The third habit to be acquired consists of feeling yourself to be like a point of liaison between the sky and the earth, allowing the inspirations of the spirit to pass into matter and elevating the energies of matter up towards the spirit.
Whatever he does, an artisan of peace is aware of the earth, of himself and of the spirit, and also of his ability to make the spirit material and to make matter spiritual. For example, when he is eating, he is aware that he is making matter spiritual; and this is why he strives to perform this action with gratitude—inviting in the most elevated thoughts.
When he speaks, he is aware that it is the beauty of the spirit that is being manifested through his words; and he strives, therefore, to build up, and not to destroy. But these examples are poor compared with the profound discoveries waiting for the person who strives to acquire these habits in life. He will see, inside himself, that everything negative can be suppressed, and transformed by the power of the spirit -- and that only the awakened man can make it possible for the kingdom of peace to materialize inside the earthly reality, by adopting the new life of the spirit.
http://www.essenespirit.com/peace.html