~~*~~ FEELINGS OF SEPARATION FROM OURSELVES AND THE EARTH ~~*~~
~~*~~ REACHING OUT FOR GUIDANCE ~ YOU ONLY HAVE TO ASK ~~*~~
The first step to harnessing thought energy is to understand the power of negative thoughts and to
learn how to banish them. No one on this earth is alone. We only become alone or lonely if we believe,
at an unconscious level, that we are separated from the thought energy of the earth and the many people
it connects us to.
The belief of separation is fertile ground for negative thoughts. It can begin in the womb. Pregnancy is
a great expression of thought and its energy in the material world. We can pick up negative thoughts as
we grow in the womb, and those very first thoughts can influence our behaviour throughout our lives.
In the Teachings of Bon, it is believed that if you constantly think in a negative way, it can shorten your
lifespan. Relationships become fearful and problems increase. You lose your ability to discover joy in
simple things. This creates further negativity. Life becomes complicated. Negativity adores all things
that are overly complicated.
Complication conceals negativity, keeping it safe from exposure. You get so caught up in the
complications that you lose sight of the underlying negativity that is creating the problems.
~*~ The Twenty-Eight Day of Removing Obstacles ~*~
Start each session by focusing your mind on your problem or obstacle. As you focus on it think of it burned away
by fire, or smashed to peices by a large hammer. As it is destroyed, the negative thoughts behind the problem
will be revealed. Don't search for them, just allow them to surface as you focus on smashing or burning your
problem. As you continue to do this, all your negative thoughts towards your problem will be purified, creating
sudden and powerful bursts of positive thought energy which will solve your problem and heal the situation.
When you have finished, sit in peace, giving thanks for the hardships of the past and the good things this practice
will create in the future. (Reference: The Tibetan Art of Positive Thinking.)
~*~ I would also like to add something which I find is very refreshing at the end of each session. ~*~
Close your eyes and picture in your mind a beautiful waterfall, not too high, and rock pools
at the bottom where you can sit and allow the water to gently cascade over you, caressing and washing
away any remnants of your negative experiences. See them all being washed from your body and
joining the water below to become One with the positive stream of your life.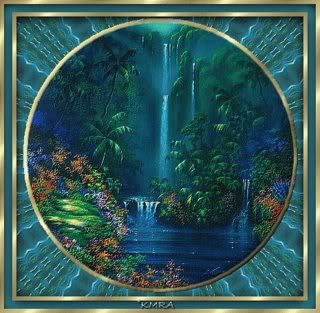 Give thanks to the beautiful water for its cleansing energies.