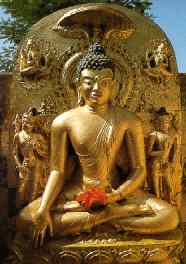 ~*~ Teachings of The Buddha ~*~
* Ahimsa ~ Non-Violence *
Among the teachings of the Buddha to the world, the foremost was "Ahimsa" (not causing harm to anyone). Non-violence is not merely refraining from inflicting injuries on others with one's limbs or weapons. Non-violence has to be practised with purity of mind, tongue, and body. There should be no ill feelings which is a form of violence. To cause harm to others through the body is also violence (Himsa). No one should be harmed even by speech. The speech should be sweet, pleasing and wholesome. All actions should be helpful to others.
The Buddhist prayer must be properly understood. The real meaning of the prayer is: You must divert your mind (Buddhi) towards Dharma (right conduct). And the right conduct should aim at serving society. When this is done, society gets purified. It is not enough to read the lives of Avatars and Messiahs. Their teachings should be put into practice as much as possible. People must outgrow their material attachments and develop divine love.
One should strive to see only that which is sacred and pure. What man sees are like seeds sown in the heart. Evil scenes give rise to evil thoughts. Good scenes evoke good thoughts. When sacred seeds are implanted in the heart there will be no room for bad feelings or thoughts to grow in the heart. This was the first lesson Buddha taught. Buddha wandered all over the country in search of spiritual peace and liberation. After many years of enquiry he came to the conclusion that the secret of spiritual wisdom was not to be got from scholars or by study. He realized that spiritual understanding can only come from mastery of the senses. From developing sacred vision, man should proceed to sacred speech. Buddha declared that only sacred thoughts can lead to sacred speech. The tongue has not been given to man to pamper the palate with delicious sweets. It is not given for talking as one likes. It is not to be used for causing displeasure to others. Nor is it to be used for indulging in falsehood. the tongue has been given to man to speak the truth, to be sweet to others, to praise the Divine and enjoy the bliss derived from such sacred speech.
Namaste ~
http://www.cosmicharmony.com/Av/Buddha/Buddha.htm