~**~ Dear friends ~ Sharing a message to everyone from my higher-self ~ White Tara ~**~
~**~ Dear loved ones, please remember that there is no rush. Spiritual awakening will lead to spiritual
inner knowledge being released as it should, for each individual soul's path. Each soul that chooses to leave
the world of spirit and incarnate on earth has chosen particular experiences to awaken their inner divinity.
Be at peace as much as you can throughout your journey by cultivating the faith that you will be guided toward your
destiny. Creating unrest within by searching desperately for the meaning in your life is totally unnecessary.
It is too easy in your created world to get caught up in another's endeavour or life-path that can steer you away from
your chosen path of spiritual awakening.
~**~ One needs to make a firm committment to themselves to not waste this opportunity, this last incarnation
into a third dimensional world. What your soul has not experienced in previous lives may be your experience in
this life time. This lifetime is a 'tidying up' or a check to see what else the soul needs to grow towards being
fully awakened through all the experiences in physical form. For, as most of you already know, that is the very
reason for the soul to take on physical form, learning what hardship and happiness feels like when time is slowed
down in your third dimension. If time was not slowed down, one would miss out on the details of each experience
and these details are vitally important for the lesson to be received and acknowledged by the consciousness.
It is the consciousness that is expanding and propelling you higher and higher towards the realization of Godself.
~**~ There is another point I would like to make, and that is concerning respect. Respect for one's own Self
and your role in this divine play. Remember that the social roles you play are just that - roles. They are to be
played out with the thought always in one's own mind that this IS a divine play. Your social status in the community,
be it a social sporting community, an academic community, a work place, any position you hold is not the Real you.
The Real you lies within, deep within everyone is that divine spark that needs to be ignited by that spiritual fuel that
is the real you, divine Love. By cultivating Love in your heart with every thought and action towards yourself and others,
will bring that spark into the fullness of flame. Be at peace, for peace and contentment are the ingredients for
serenity. In this calm and peaceful state you will be able to receive all the guidance you require to fulfill your destiny.
With utmost love and respect to each one of you, I AM White Tara. ~**~ ~**~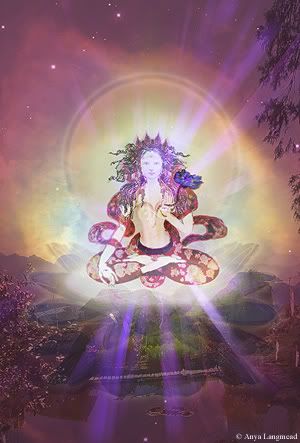 ---
Thank-you Hannah
July 24, 2011, 5:12 am
Pleased you liked it Hannah,
love and blessings to you, Tara xox
---
Lovely Message Tara! And So
July 22, 2011, 6:19 am
Lovely message Tara! And so it is! Thank you!
Love & Light!
HannaH
---
Thank-you All
July 22, 2011, 6:17 am
Thank-you to Tiffany, Doug and Richard for your lovely comments ~
Namaste and love, Tara *~~

---
---
---
Thank You.
July 21, 2011, 11:00 am
A beautifully stated message of wisdom and truth.
Richard