Norway Refuses To Hate Or Be Afraid
Congratulations to the people of Norway, who continue to demonstrate fearlessness and love to the world. Thanks to Edvard.

Thousands gather in Oslo to sing song Anders Breivik hates
Reuters/Guardian, April 26, 2012

http://www.guardian.co.uk/world/2012/apr/26/thousands-sing-anders-breivik-hates?newsfeed=true

About 40,000 people sing 1970s song Children of the Rainbow, which Breivik described as Marxist propaganda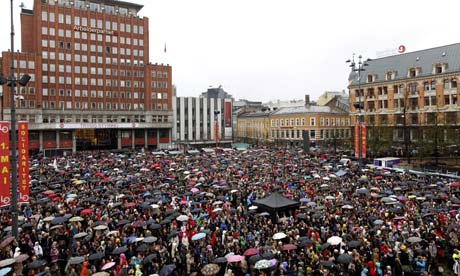 People gather in central Oslo to sing a song hated by mass murderer Anders Behring Breivik. Photograph: Kyrre Lien/AFP/Getty Images
Up to 40,000 Norwegians have staged an emotionally charged singalong in Oslo near the court building where Anders Behring Breivik is on trial for the murder of 77 people in a protest organisers said showed he had not broken their tolerant society.

"It's we who win," said guitar-strumming folk singer Lillebjørn Nilsen as he led the mass singalong and watched the crowd sway gently in the rain. Many held roses above their heads, and some wept.

The protest followed several days of defiant testimony from Breivik, who has admitted killing his victims but denied criminal guilt.
The crowd chose to sing Children of the Rainbow, a song that extols the type of multicultural society Breivik has said he despises and one he dismissed during the trial as Marxist propaganda.

People then marched to the district courthouse where Breivik was on trial, close to the site where he set off a bomb that killed eight people on 22 July last year.

Thousands more Norwegians held similar musical protests in towns across the country. The protest came as survivors lined up inside the courtroom to take the witness stand and describe the bombing.

"I was spitting teeth," said Harald Foesker, who had been at work in the Ministry of Justice when the 950kg fertiliser bomb went off outside his window.

"I felt at once that this was a terror attack on the government building … I called for help but nobody answered."

He said he lost 80% of his vision and his face had to be restored afterwards, but added he was proud to live in a country that treated criminal defendants with dignity.

Breivik, 33, has called his victims "traitors" who deserved death for embracing leftwing values that, in his view, opened Europe to a slow-motion Muslim invasion.

He has said he felt he had no choice but to strike back, bombing government offices and staging a brutal gun massacre at a Labour party island summer camp that killed 69 people.

Breivik has often used chillingly graphic language to describe his killing spree, but it seems to have taken his comments about the Children of the Rainbow song to touch a nerve in a country that prides itself on a tradition of tolerance and justice.

---
Let's Not Be So Quick To
April 28, 2012, 11:32 am
Let's not be so quick to assume that Norway (Scandinavia as a whole) is a place of humanitarianism. They are infamous for their pride in the hunting of seals (including babies) for their pubescent male "initiates" who kill for the sheer "sport" and homage to "masculinity". They murder the animals and then leave the carcases to decay...not even using the animals' bodies for any purpose. I'm sorry, but in my opinion, the nordic race engender and promote the most sadistic attributes that humans can possibly cultivate in society. They are cold, arrogant, heartless, and believe that they, due to their technological advancements (and blond hair I guess! lol), are the master race and that people of darker complexions should bow down to them.
Yes, yes...of course there are exceptions, but I'm talking about the general mentality of their culture. So let's not be so quick to lament the Nordic people...they have a strong tendency toward sadism and conquest. They were (and are) the Vikings! For me personally, I've always had the most difficult time forming and maintaining any real friendships with nordic people, especially the males. I prefer to keep away from them. If I'm at a social function with blond men present, I tend to gravitate *away* from them in favor of those with darker hair. It may sound silly, but a little intuition should say otherwise.