New Earthquake 6.9 In Japan... And Preeminent Colored Lights
New Earthquake 6.9 In Japan... And Preeminent Colored Lights
February 4, 2013
Energy, Planet Earth
Thanks to our Brother Michael~

SiNeh~

Here is a report about the recent quake.

It is curious that the Japanese government had some knowledge that the quake was about to hit and the government was able to put out a warning.

Gov't warns of impending quake shortly before M6.9 hit northern Japan — "Make yourself safe, turn off the gas…"
6.9-magnitude earthquake strikes Japan's Hokkaido
February 2, 2013

A powerful 6.9-magnitude earthquake struck northern Japan on Saturday, causing strong tremors across Hokkaido island but generating no tsunami or immediate reports of damage, authorities said. [...]

Tremors from the powerful quake lasted for about a minute, according to NHK which warned of possible aftershocks.

Shortly before it hit, an alert was broadcast on television and radio, forecasting the impending quake, through an early warning system established by the weather agency.

Programmes were interrupted on NHK to broadcast information about the earthquake.

"Make yourself safe, turn off the gas, beware of falling objects, and if you are outside do not approach the coast," the broadcaster said. [...]

***************************************************************************

And it is especially strange that there were reports of colored lights falling upon Hokkaido right before the event. These have been called "colored rain" but if you watch the GIF clip in the following report then it becomes obvious that these are possibly the colored lights that have been reported shortly before large "unnatural" quakes such as in Fukushima, China and other places.

Click on From the GIF in the following article.

I will also try to embed it if i can.

-w-

[Raindrop?] Strange light captured in the official live camera when M6.4 Hokkaido, before the power blackout
Posted by
Mochizuki
on February 2nd, 2013 ·
No Comments
At 23:17 of 2/2/2013 (JST), M6.4 hit Hokkaido. [URL 1]

A strange light was captured in the live camera when the earthquake hit. The live camera is assumed to be NHK.

The falling light looks like a raindrop but it was not rainy according to the weather news.

After the light sparkled, Kushiro city had a power blackout.

Additionally, USGS reported it to be M6.9 instead of M6.4. [URL 2]

↓ From the GIF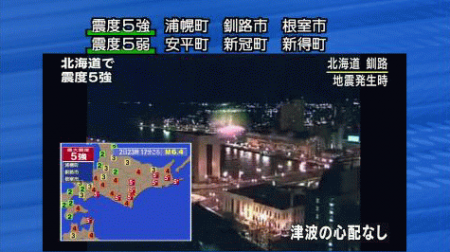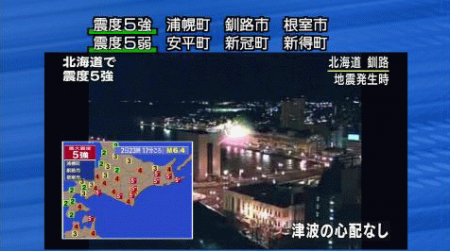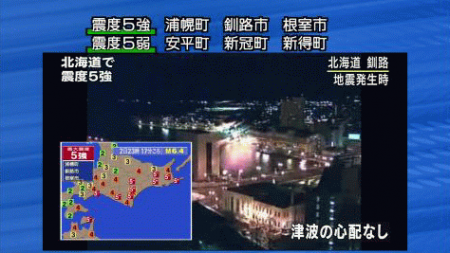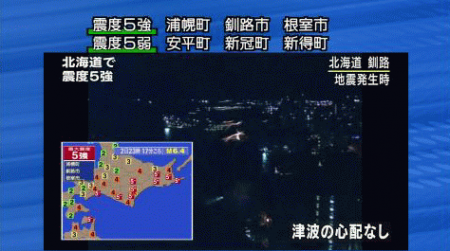 ↓ It was sunny in that region. [URL 3]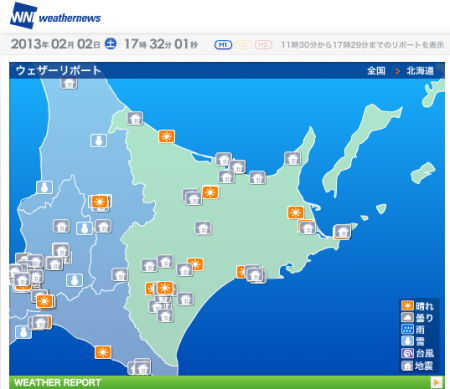 Here is the embedded GIF image....

Wonder what HAARP or EMF used as a weapon looks like...

Okay... i suppose the colored rain is meant to be a raindrop dripping down the lens of the Closed Circuit Cameras.... right!