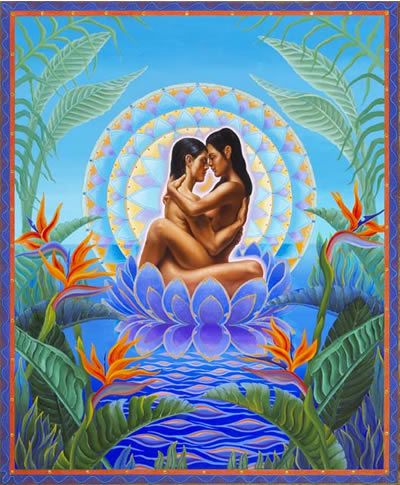 TANTRIC HEALING
The word Tantra is Sanskrit, the sacred language of Hinduism. It derives from the root word tan, which translates as "to extend, expand, spread, continue, spin out, weave; to put forth, show, or manifest."
Like the universe we inhabit, Tantra is continually expanding, spreading, and manifesting itself like a "cosmic weave," made up of different energies.
We are part of this weave, as are our forefathers and foremothers, all life, and every type of energy and matter. This includes thoughts, actions, and all physical matter.
Because Tantra is a mystical subject, it is nearly impossible to define. Even eminent scholars have had a hard time explaining what Tantra actually is.The different explanations of Tantra indicate its multifaceted nature. Tantra is a spiritual science, which means it is also mystical, in its interconnectedness, the holistic wisdom link between ourselves and the universe we inhabit.
By embracing Tantra, we become more "real," more "complete." We recognise and stimulate our inherent sensual spirituality, we discover parts of ourselves that have remained asleep or have been repressed.
With Tantra, an energy is released that is evolutionary and "upwardly motivated." We can learn to use this energy for pleasure, for achieving our worldly goals, and for aiding our spiritual evolution.
Familiarity with Tantra can help a person to enjoy life to the fullest. It can help do away with guilt or fear, break down self imposed or limiting cultural boundaries, and guide us in our search for solutions.
Tantra teaches us to become familiar with our mystical nature, and when we do so, our boundaries expand.
We enter into new domains of awareness. We become empowered, more fulfilled, and more perfect.
Tantric Yoga is based on the belief that the Universe is made up of Yin-Yang (Female-Male) principles, and that these Yin-Yang energies are also contained within the human body. Unification and harmonization of the Yin and Yang energy forces brings the experience of joyous transcendence and mystical ecstacy.
Spirituality and sexuality are not seperate. Rather, these fundamental and exquisite forces of our innermost beings are deeply integrated and united bringing a sense of divine balance and fulfillment within one's self.
Through the study of the Tantras (sacred sexual teachings), we gain awareness and mastery over our subtle energy body and creative sexual energy flows.
Through continued practice while partners develop and master the tantric asanas (postures) and pranayamas (breathing techniques), they tone and strengthen their respective subtle energy bodies and learn to harmonize the Yin-Yang forces within themselves and each other.
As couples combine and channel the primordial, evolutionary force of the Kundalini energy, they begin to experince deepening levels of the tantric erotic sentiment and the mystic erotic thrill created by the maturing and upward movement of Kundalini energy.
This eternal force which unites within them ascends as a powerful vortex of energy rising like liquid fire through their subtle bodies and into their 7th chakras at the top of their heads.
This union in turn begins what is often called a nectar rain of orgasmic splendor throughout the entire nervous system and aura (electromagnetic field of energy around the physical body ).
It is believed that through this transcendental state of mystic love that all karmas and impurities of the mind and body may be burned up and the participants may be transported into the divine realms of consciousness.

shared by LIORA www.twinflame1111.com
http://www.crystalinks.com/tantra.html
---
Thank You Liora For This
February 24, 2009, 2:41 pm
Thank you Liora for this explanation of Tantric Healing. I feel it is a vital step for all to take on their path of "opening," clearing, and releasing what no longer serves us as we enter the higher realms of light and Love.
-Sunyata
Certified Tantric Healer ~ Certified Reiki practitioner
-Accept What's Present,
-Release What's Not,
Consciously Create
Sunyata Satchitananda
www.mythiclove.net/sunyata
---
So True, Sexuality Is A
January 22, 2009, 2:31 pm
So true, Sexuality is a powerful expression of Divine Love. In the past it has been controlled and manipulated by the darkness.
In the Light we celebrate our connection to the Source and each other.
---
Thank You Liora :)
December 19, 2008, 5:23 pm
fabulous information :)
Sending you my love and light ;D Alyson xoxox {{Hugs}}
Thank You
December 19, 2008, 4:54 pm
Thank you for shedding light on a rather vague subject. The power of understanding is 60% of the revelation to me. Love and hugs to you, Jo