The 2009 Crop Circle season is off to an amazing start with six glyphs in April!
Rutlands Farm, nr Avebury, Wiltshire. Reported 23rd April.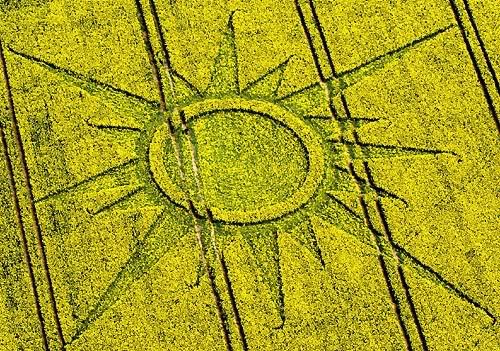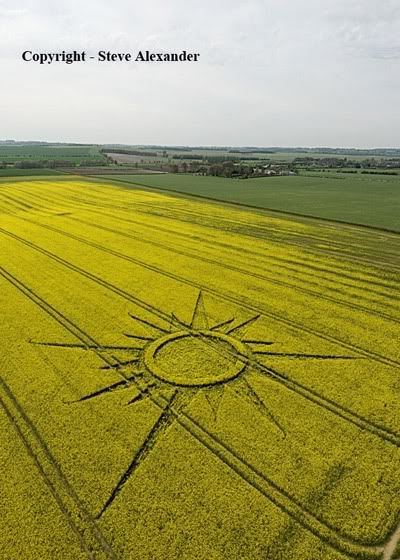 Images Nick Nicholson Copyright 2009
Solar Storm 2012?
This latest striking design, situated on Rutlands Farm just outside the Stone Circle of Avebury village has an uncanny connection to some rather alarming news which has come to light about our own Sun. According to calculations a huge Solar Storm could hit the planet earth in only three years time. That's right 2012! Perhaps this is the message given in this new formation. Solar Storms are swarms of electrically charged subatomic particles from the Sun, which buffet the Earth causing problems for orbiting satellites, which have delicate electronics. On the ground we witness them as the Northern and Southern Lights. However a few times throughout history the Sun ejects enormous swarms, which can cause serious damage to our electrical power structure causing catastrophic harm to our modern-day global structures. Perhaps we need to not only keep an eye on the ground, but also to the heavens.
Stuart Dike
Morgan's Hill, Nr Devizes,
Wiltshire. Reported 24th April.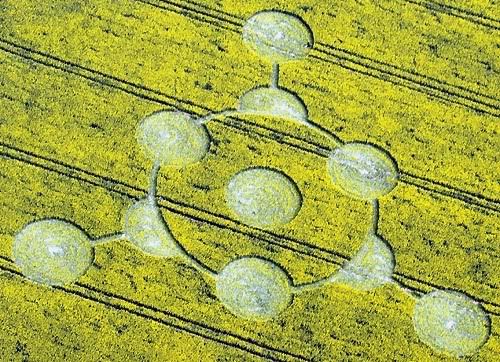 THE FARMER HAS STATED THAT NO ONE HAS ACCESS
TO THIS CROP CIRCLE ON HIS LAND.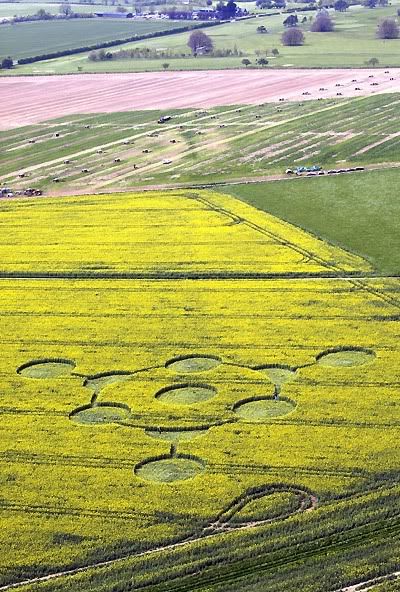 Liddington Castle Fort, nr Chiseldon,
Wiltshire. Reported 25th April.

Images Dene Hine Copyright 2009
After 3 hours of hunting in the field up and down the tram lines, I came across the circle that I was told about. Got totally rained on in the flash storms. This is not visible anywhere near the road. it must be visible from the top of the hill only. But I came upon a small formation that contained 4 circles, 2 outlined and 2 solid. joined by lines. I would say the whole formation would be under 100ft.
Dene Hine
Location: B4192 Just past Liddington castle. Aldbourne direction.
It is on Liddington warren farm. noted as Shipley bottom on the map. from the track at the bottom of the field it is about 4-5 tram lines in and about a quarter way up towards the farm buildings.
Map: http://streetmap.co.uk
Crop: Rape seed
Description: Small formation, my friend phoned me when he spotted it while walking his dogs. I cant check it out as i am not nearby
Discovery: 25th April
Name: Dene Hine
Status: Waiting for second confirmation and photographic evidence
Location: Liddington, near Chiseldon.
Map:
Crop: Rape
Description: A small circle visible from the hill fort, was unable to make out it's pattern, hope to see an aerial shot soon
Discovery: 25/04/09
Name: Nikki Jennings
Status: Waiting for second confirmation and photographic evidence.
UPDATE:- I heard something bout Liddington so I went for a quick walk up Liddington Castle and up n down B something or other road a couple times. There was some interest in a field opposite Sugar Hill, however when i went to check, it was a circular patch of green in the bottom left hand corner?
JIC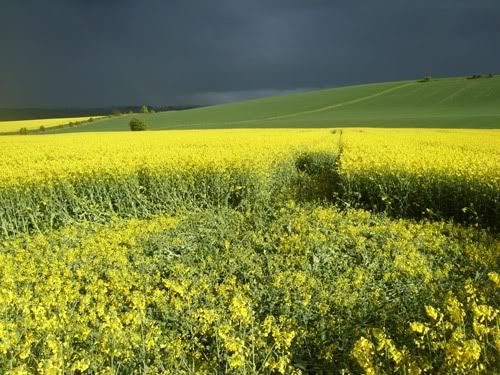 Roundway Hill, nr Devizes, Wiltshire. Reported 29th April.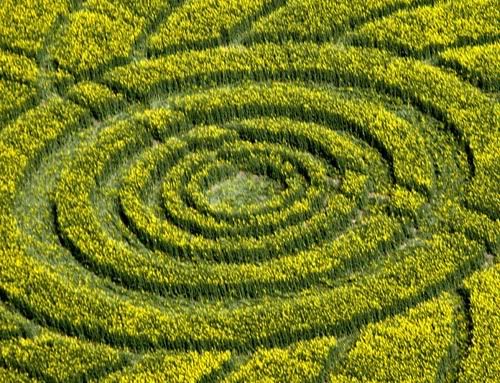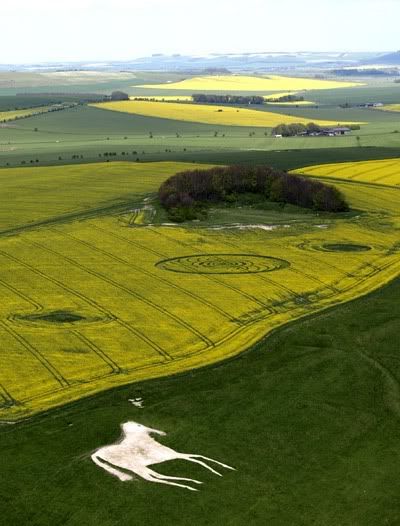 This new circle discovered this morning while Olivier (member of the WCCSG team) was flying. It's above the Roundway Hill white horse near Devizes. In rape about 200ft.
Clare
http://www.cropcircleconnector.com/interface2005.htm
---
Amazing Formations
May 9, 2009, 6:21 am
I am planing a trip to wiltshire in August to visit the formations
Hoping to hire a van and take a group from London
let me know if anyones interested
Always
Sacred Love and Light
Sacred Whisper
---
Haa, New Season ^^
May 1, 2009, 8:09 pm
haa, new season ^^ contemplating the new geometries!
!!!^^ exited^^
---
Thank You Clare For The
April 30, 2009, 1:11 pm
Thank you Clare for the update and great post! Love, Annie