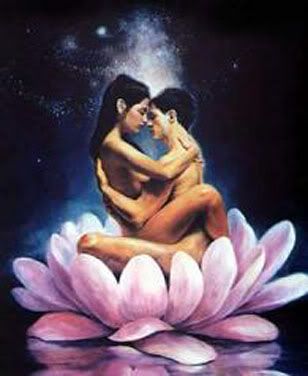 THE ENERGY OF LOVE

What you call sexual energy, or sexual expression, is the energy of Source...the energy of LOVE....of which existence is both made and sustained............................................

When a couple in love experiences total surrender, of one to the other, during a heightened sexual experience, they become blended into a single consciousness containing equal parts male and female. The original experience of Oneness, or God, awakening to its own existence, and responding, was , "I Am," meaning, "I exist." That experience led to Oneness individuating its own male and female halves, then blending them into Oneness again.
The sacred function of your sexuality intended to bring about the same ecstasy and experience of Oneness as the original awakening of existence.

The female vulva is a geometric gateway to the cosmos. The vagina is the spiralling passageway through which a person must travel in order to enter the womb, which is the microcosm of the egg of existence. As the egg is "hatched," or fully activated, energy and consciousness move directly through another spiralling tunnel or passageway to the woman's soul. From the woman's soul the energy and light of love is sent out in waves back to her partner and through existence simultaneously. These waves are like ripples on water, only holographic. They are like bubbles expanding in wavelike motion as opposed to ripples on a flat surface. These waves create a blending of the soul of the woman and her partner. The love and ecstasy created by their union is transmitted through a spiral passageway down through the males body into his prostate which further excites his penis to transmit the love, adoration, and joy energies passionately into the woman's vagina. This cycle is repeated in a continuum once both the male and female have totally surrendered to giving and receiving love and relinquishing all control. The two become a microcosm of the macrocosm of existence. They spin the galaxies together, hold planets in form, spiritually activate one another's souls and spirits through the dimensions, and heal each other and all of existence: and all while having a great time! Sound easy? Ideally yes. But your world has made it very complicated.

Trust and respect have been so long lost that you spend more time testing one another, making each other prove yourselves, finding reasons to doubt each other, and vying for control than you do creating and enjoying your love relationships. And these things you call love relationships are often little more than addictive pain patterns being acted out. Love does not need to possess, control, degrade, withhold, prove anything, distrust, or conquer. Love simply loves. It flows. It is uninhibited, uncontrived, natural, innocent, and spontaneous. And while discernment is needed in the selection of a partner, it need not prohibit you from loving everyone. Did you know that humans are terrified of feeling the totality of unconditional love? You have been taught to restrain yourselves lest you make a fool of yourselves. You have been taught that it is impossible to love fully without hurting if the other person does not return your love and promise to stay forever. Without 100 percent guarantee that you will not "lose," you hold back a little or a lot. It does not really matter how much. The point is that the flow has been dammed and therefore controlled.

What if love could only exist in the presence of surrender? What if there were no such thing as loss, only change? What if you had to let go before the other person did without knowing whether he or she will ever let go or not? You would risk disappointment; but that is all. If you have healthy self-esteem and self-love the person you love cannot devastate or humiliate you. He or she cannot make you feel unworthy; only you can! The object of love is not to win someone over, break through their barriers, make them need or desire you, or make sure you don't lose. The object of love is to love, to cherish, to honour, to adore, to respect, to never harm, to appreciate and never depreciate another

This is the nature of your true being, your soul, your spirit. To experience love for no apparent reason and for no ulterior motive is a great sign that you are nearing completion of your trials and karmic pain. It is the way home to your true self.

To fill your life with friends and/or a partner who naturally inspire you to love is a wonderful thing. To surround yourself with sacred objects of beauty, to live in a place you enjoy, to be in nature regularly, to do what you really like to do are all important ingredients in life that can help you become more in tune with the Energy of Love....Spirit... Source.....Oneness...Your Natural State of well-Being....

The essential nature of the unrestrained soul is tantra. This leads to being in a constant orgasmic state in your whole body. In this state, energy blocks are dissolved, emotions released to flow naturally, and spiritual experience of love and Oneness are the norm. And it is what you and Earth most need at this time ...........In the Awakening of the Heart......and the Energy of Love.....

Amorah
Dolphin Star Temple Mystery School

www.world-harmonics.com
---
LOVE IS THE ANSWER
March 31, 2010, 6:58 am
Love is the natural state of being,we are just remembering...LOVE IS THE ANSWER!
---
Only In Loving Are We Truly
December 7, 2009, 7:02 pm
Only in loving are we truly living! To love is to live and to live is to love. I will love regardless for I know that as I breath I love.
Thank you dearest sister for sharing this.
Namaste, Peace and Love!
---
~~~~~~~~~~~~~~~~~~~~~~~ <3
December 7, 2009, 7:50 am
~~~~~~~~~~~~~~~~~~~~~~~ <3 ~~~~~~~~~~~~~~~~~~~~~~~~~[/vc_column_text][/vc_column][/vc_row][vc_row][vc_column][vc_column_text letter_spacing=""][/vc_column_text][/vc_column][/vc_row]
---